friendship table, Uzbekistan + USA




project in development with
Tashkent Master-wood crafting





"friendship table" is an in-development, collaborative project which represents the gesture of cultural and diplomatic exchange between sovereign states. Among various references, it is a site-specific installation which evokes national and cultural identity. This project is intended to provide a space of reflection for students, teachers, and administrators at Samarkand State Architectural and Civil Engineering Institute (SamGASI) and uphold a reminder of the connections shared across national boundaries. The process, execution, and general duration of research is supported by the Creative and Performing Arts Fulbright Award

This project centers Uzbek traditional wood carving as a unique cultural art form, and is a result of collaboration with students and colleagues at SamGASI, as well as consultation with design professionals in Tashkent.



collaborators:



Gerald Euhon Sheffield II
artist, designer, educator

Munisa Sadieva
architecture student, Samarkand State Architectural and Civil Engineering Institute


Murtoza Hamraev
Architect, fabricator, Tashkent







presentation with students



Munisa Sadiev, architecture & collaborator




discussing the art of interdiscplinary collaboaartion and critical studies with Uzbek students



samGASI table, (draft)
reclaimed walnut, hand carved, CNC milled
1.95m L x .90m W x .75m H
2019





samGASI table comparison (top view)


Samarkand and the history of the Silk Road in Uzbekistan represent a living archive of customs, languages, and people, all of which are integral to understanding a cultural identity centered on hospitality, community, respect, and an incredible pride for one's history.

In spite of academic research, much of my learning and interactions with the history of Central Asia have been around food - Hospitality in Uzbek families is appreciated higher than the wealth... Not receiving a guest in Uzbek society means to disgrace family, kin and makhalla.






1. 8-pointed star, one of the earliest geometrical forms in Islamic art. The use of this design on the table references the repeating patterns seen throughout Samarkand, including on murals alongside the exterior walls of Soviet era flats. On the table, it represents a symbol of historical restoration and tradition.
2. Adinkra symbols represent concepts or
aphorisms. Cultural symbols of the Asante people from Gyaman, a former kingdom in today's Côte D'Ivoire. The reference for including this symbol into the design resulted from various misconceptions of my identity as an African American, or Black American, while living in Samarkand. However, an additional reference envokes a disconnected lineage to Africa as a result of American Slavery.
2.b. Abusua Pa - meaning good family. A symbol of good family, family unity



The crescent moon and 12 stars are symbols of the Flag of the Republic of Uzbekistan. The 12 stars represent the regions of the country. The corresponding 13 stars arranged in a circle represent the "Betsy Ross flag" popularly viewed (historically inaccurately) as the first flag of the United States after independence. 13 represents the original US colonies - and serve as an aesthetic and conceptual balance of the two countries, post independence.





fabrication studio, Tashkent



table legs, aesthetic range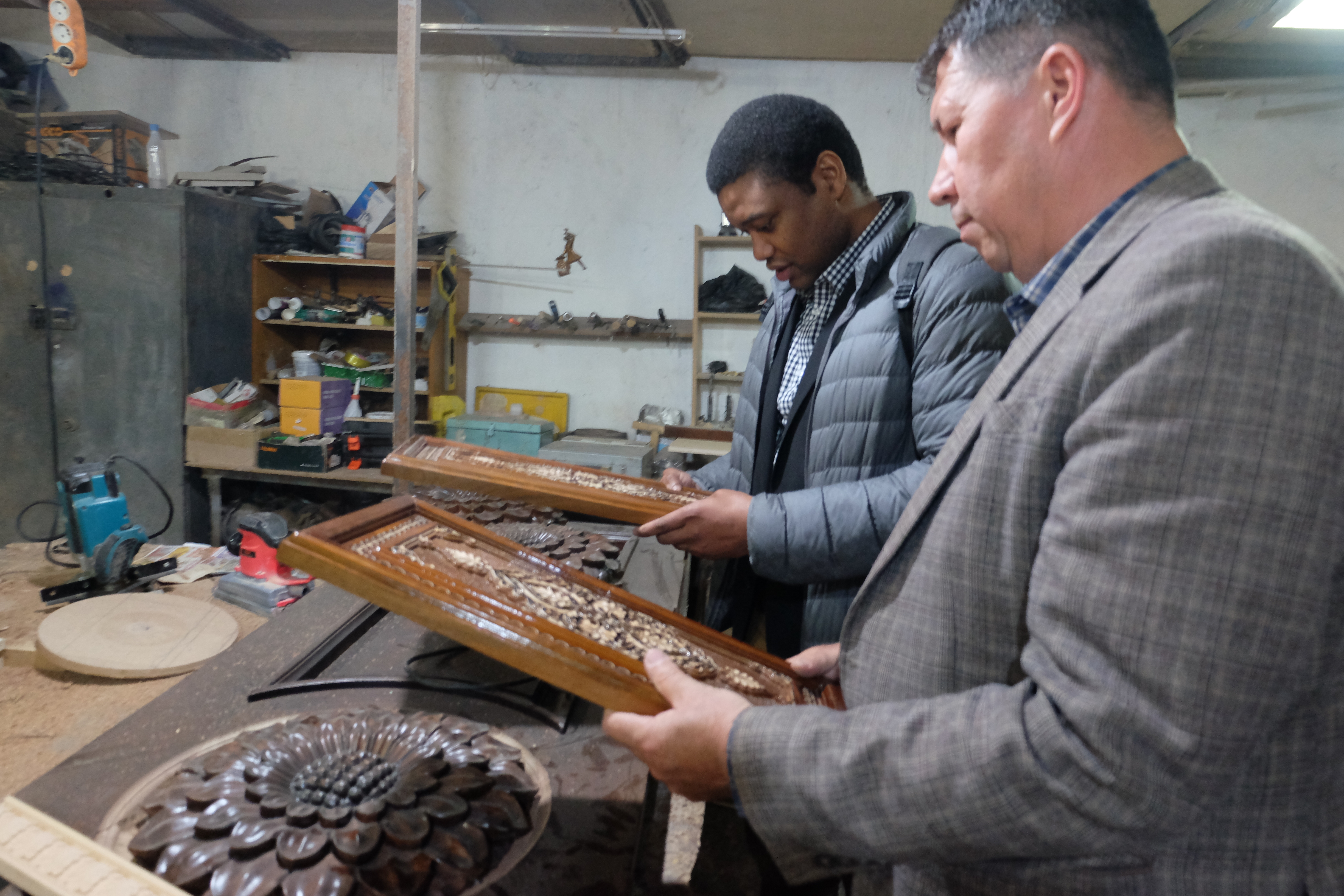 Murtoza Hamraev, Architec, discussing the materials and process of fabrication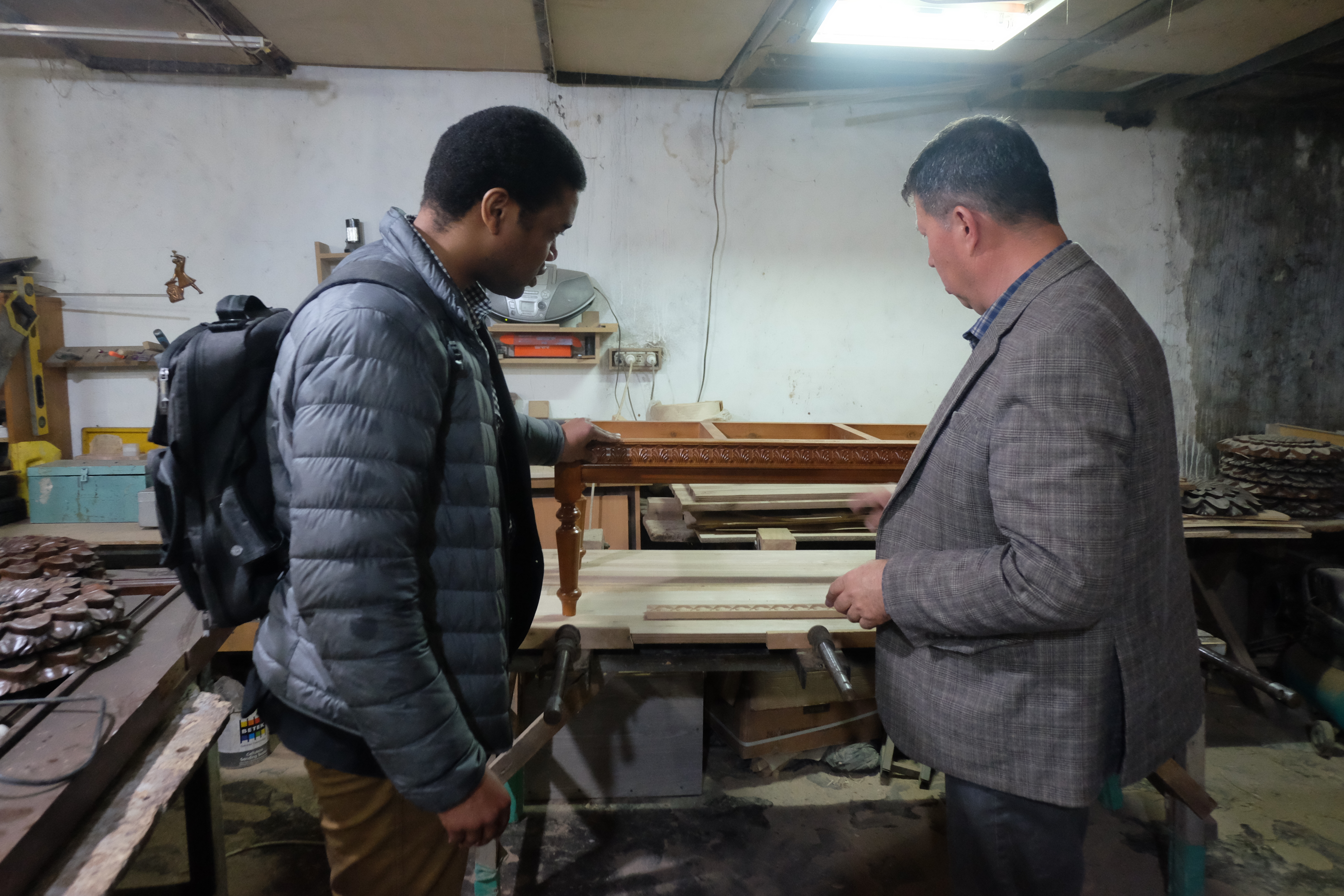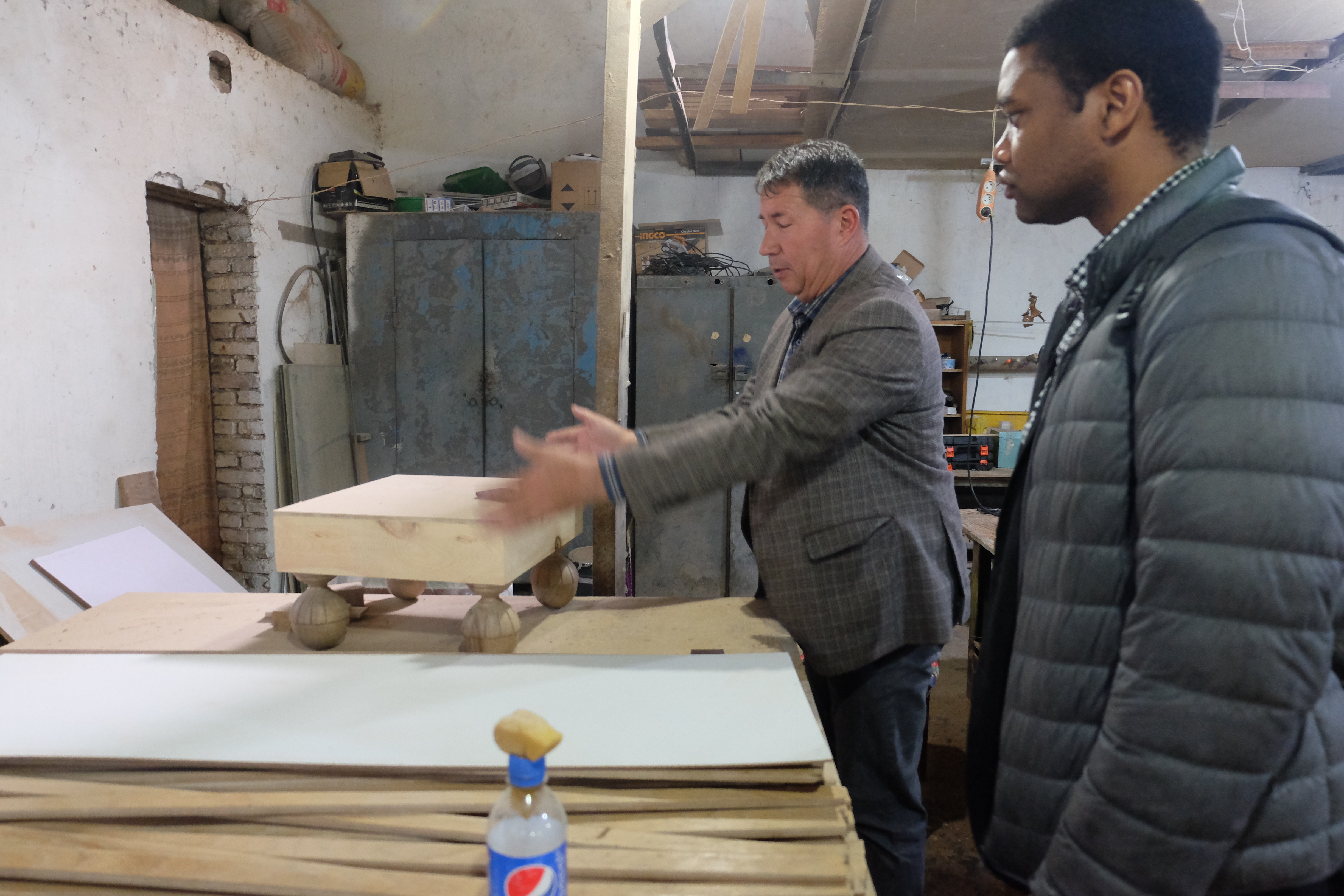 prototype


2019, Gerald Euhon Sheffield II